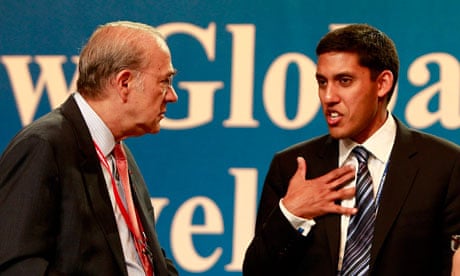 Nearly one-eighth of the world's population suffers from chronic hunger. By 2050, the world's population is projected to increase to more than 9 billion, requiring at least a 60% increase in agricultural production.
In order to meet these challenges efficiently and effectively, the US Agency for International Development — as part of the feed the future initiative — is expanding its engagement with the university community, tapping into scientific expertise and innovation that are crucial to advancing global food security.
Through the feed the future innovation labs, which build on USAid's long history of working with US universities through the collaborative research support programmes, we are testing different models of engagement, expanding into emerging areas of research, and forging new partnerships with developing country institutions to help revitalise scientific talent and strengthen agricultural research capacity in countries like Bangladesh, Uganda, Malawi and Cambodia.
Two new innovation labs, recently announced by USAid administrator Rajiv Shah, complement ongoing research in areas such as adapting livestock systems to climate change, and enhancing production of nutritious legumes and horticultural crops.
"The feed the future sorghum and millet innovation lab reflects president Barack Obama's and feed the future's strong focus on using science and technology to help smallholders meet the challenge of increasing cereal production even as climate change alters environmental conditions and reduces agricultural productivity," Shah said.
Kansas State University will lead the new sorghum & millet innovation lab, competitively awarding grants to collaborations between US and developing country scientists that address key constraints along the sorghum and pearl millet value chains in Africa. The aim is to bring about higher yielding, climate-resilient varieties and new, more profitable market solutions for farmers in dryland areas of Africa, where sorghum and pearl millet are critical to food security. They will also be important to US producers, who will benefit from new crop traits and other products.
The food security policy innovation lab will follow a different model of university engagement. A consortium of institutions will help increase partner countries' capacity to identify and implement improved food security policies. Research will develop the evidence base needed to inform effective policies at national, regional and global levels. The consortium will work with and support a wide range of governments, local thinktanks, university researchers, private sector associations, and civil society groups in building capacity and providing critical information to inform better food, agriculture and nutrition policies that enable sustainable agricultural growth and poverty reduction.
Working with US universities allows USAid to tap into a diversity of disciplines and the latest research necessary for successful development — and to build the long-term relationships needed to sustain this development.
The nutrition innovation lab, led by Tufts University, exemplifies the depth of knowledge and breadth of experience that university researchers can bring to our development agenda.
At a recent event in Washington, DC, nutrition innovation lab researchers reviewed the evidence base for agriculture-driven nutrition impacts, highlighted research on the importance of protein quality in combatting stunting, and demonstrated the impact of water and sanitation on nutritional security.
This programme is examining investments in Nepal and Uganda to better understand how agricultural development programmes can best lead to nutritional outcomes. This critical research will inform USAid missions around the world and our developing country partners, helping them make effective, results-focused programming investments.
University-led research programmes also provide incomparable training and institutional strengthening. In the course of conducting collaborative research, US universities have trained thousands of students and enhanced the ability of many educational and research institutions to conduct research that addresses major challenges agricultural systems in their countries face, such as climate change impacts on crop production, pests and diseases, and resource over-use and degradation.
About 350 students, for example, have been trained by the aquaculture & fisheries innovation lab, led by Oregon State University. This new cadre of researchers, almost half of whom are women, will focus on improving the sustainability and economic viability of aquaculture and fisheries production systems in their home countries.
An overarching challenge in agricultural research and development is ensuring that programme outputs — whether they be new varieties and breeds, improved management practices, better market pathways, or new financial mechanisms — actually reach farmers and are adopted at scale.
Shah has made this issue a top priority for feed the future, noting that although we have technologies that can help smallholder farmers overcome food security challenges, these solutions aren't reaching nearly enough farmers.
Universities can be important partners to development agencies in this area. The modernising extension and advisory services programme, led by Illinois State University, works with public, private and civil society organisations to promote new strategies and approaches to rural extension and advisory service delivery in feed the future countries.
By engaging with universities, global development agencies can harness critical scientific advances and promote best practices in food security that can ultimately help reduce hunger and poverty around the world.
Saharah Moon Chapotin is division chief for agricultural research at the US Agency for International Development. Follow @USAid on Twitter
This content is brought to you by Guardian Professional. To get more articles like this direct to your inbox, sign up free to become a member of the Global Development Professionals Network